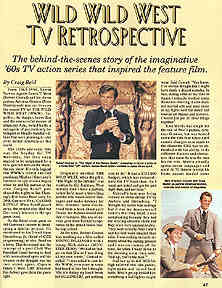 THE WILD, WILD WEST: INTRODUCTION

by Craig Reid
Six years ago I was sitting in my living room in New Haven, Connecticut and the phone rang. The voice on the other end said, "Hello Dr. Reid, Bob Conrad here." Without thinking I blurted, "Jim!" He replied, "No, Bob Conrad." Head still spinning, I couldn't believe that one of my childhood heroes was calling me. The occasion? I had just published an article in a magazine where I chose THE WILD, WILD WEST as having the best action choreography on television ever. I had recently returned from learning fight choreography from another legend, Jackie Chan, but I was more honored to speak with Bob Conrad. Conrad had merely called to thank me for recognizing the work that he and his fight crew Whitey Hughes, Red West, Bob Herron, Jimmy George, Jerry Laveroni, Dick Cangey and the rest of his boys had done for the show.
From 1965-1969, Secret Service Agents James T. West (Robert Conrad) and his clever partner Artemus Gordon (Ross Martin) rode into our lives on the smash TV hit THE WILD, WILD WEST. Together, the dapper, brave Jim and the resourceful master of disguise Artie, would battle a menagerie of psychotically intelligent or blindly baneful villains that were planning to take over either America or the world.
Each week, our heroes would investigate the surreal, the bizarre, the outrageous and the impossible while facing the wrong end of lottery-winning odds. Each door, window, piece of furniture, tree or rock could either kill them or in the wink of an eye whisk them away and propel them into some creepy secret underwater, underground or cavernous hideout that spider-webbed the small towns and cities of post Civil War America. Each alley way or building they entered would either turn up dead bodies, lead to their capture and subsequent inventive escape, or foster some important clue while hidden eyes watched their every movement. All this usually climaxed with one the show's meticulously choreographed action bits where Jim's fists, feet and secret weapons or Artie's gadgets or disguises would save the day... at least for the moment.



The 1950s and early '60s was the heyday of TV Westerns but they soon started to be outgunned by a new genre "hero on the block", the secret agent. Shows like Man From U.N.C.L.E., DANGER MAN, THE SAINT, SECRET AGENT, I SPY, HONEY WEST, AMOS BURKE, GET SMART and the penultimate THE AVENGERS grabbed the ratings. And this all started with James Bond. It's only logical that THE WILD, WILD WEST's creator and first producer Michael Garrison's interest in spy drama began when he and his partner at the time, Gregory Ratoff, purchased the rights to Ian Flemming's first James Bond story for 20th Century Fox, CASINO ROYALE. When Ratoff passed away, the project also died but Garrison's interest in the spy genre lived.
As the Bond craze grew so did Garrison's interest in developing a similar project. He mentioned an idea -- Bond on a horse -- to his friend Hunt Stromberg, Jr. (head of CBS programming). This developed into the concept of post Civil War President Grant having to deal with international spies, and his weapon in the struggle was his own secret agent, Captain James T. West. CBS president Jim Aubrey gave them the green light.
Originally entitled THE WILD WEST, when the pilot, "The Night of the (TNot) Inferno," was written by Gil Ralston, West initially didn't have a partner. Rather, he'd meet a travelling peddler who would deliver messages and make devices for West. Artemus' name was derived from a book about early Greece that Ralston owned entitled "Artemicio." His use of devices grew from Ralston's experience in the armed forces' booby-trap school.



Four hundred people were at the casting call for West. At the time, Robert Conrad was working on a film called YOUNG DILLINGER with a young Nick Adams (MONSTER ZERO). Sharing a cola with Conrad in a Westwood hotel, as you can imagine, was a dream come true, but to hear the inside stories on the show (and later his thoughts about the film) was just simply awesome. "We had no budget on that film so I was doing all my own stunts," Conrad recalls, "So I was asked to cast for THE WILD, WILD WEST, everyone in town had heard of this but I thought, "Oh, it's during my lunch break (on DILLINGER), got nothing else to do." It was a mounting TV show and had a $750,000 budget, which was extraordinary for back then. So I went, got tested and got the part right then, and not later.
Conrad leans over telling, "I thought they were taping the screen test but they were actually close circuiting it. Aubrey and Stromberg were watching me. I thought my scene was average but it was my demeanor off camera that they liked. I was complaining because they had me wearing elevator shoes and they were very uncomfortable. They were actually Alan Ladd's and his feet were smaller than mine. Then I was making sarcastic remarks about the casting process and I was on camera all the time. So when I went down to the dressing room, they said, "Suit up, you're the man." I suited up and started the show."



And suit up he did. With his high tailored vest-like jacket, tight pants and raised boot heels, West's get up looked like something a bullfighter might wear. Conrad adds, "You know, I've always thought that I might have made a decent matador. In fact, during some of my time in Spain I actually studied some flamenco dancing, you know, doing those kind of postures and I would play into those postures. I also, as you know, studied martial arts and used those in my fights. So with the dance and martial art stances and postures, I would just put all these things together."
And of course his costumes came with some rather clever and unique accessories. Like his patented spring-loaded wrist device where with the flick of his wrist he could produce an array of life-saving devices such as acid vials, lead-weighted string, grappling hooks, pulleys, knives and the ubiquitous derringer which could be dismantled and hidden in his boot heels. His heels could also conceal acid vials and an array of explosive devices for all escape purposes. His belt buckle had bullets hidden inside, his hat a wire, knives and lock picks could be stashed anywhere in his jacket, boot or pants. And if that wasn't enough, the tip of his boots housed a switchblade while his six-shooter and derringer could be modified to shoot an array of explosive pellets or a serrated arrow head with a line attached to it so he could swing, slide, drop or rappel to safety by either free falling or using a mini, handheld winch. And that's just for starters because each week Artie would invent some crazy contraption or substance that West would end up using to save his own hide. Things like tear gas, plastic explosives, knockout gas, underwater breathing devices and super sticky substances to name a few.



Where Bond had a souped up Astin Martin, West followed suit. Since the first car was thirty years away, set designer Al Heschong created a railroad car which was part of a train called The Wanderer where it's exterior shots were provided by a stock train in Jamestown, California. With a billiard table armed with smoke bombs or exploding billiard balls, cue sticks guns and swords, the railroad car came with several other options -- like mounted guns that could be operated with a foot pedal ("TNot Red-Eyed Madman"), a back room with hidden panels that housed his wardrobe and secret weapons which changed during the second season and moved above a fireplace behind a map of the United States ("TNot Infernal Machine"), a telegraph disguised as a book rack, a secret entrance by the fireplace, homing pigeons (Anabella, Arabella, Henry, and Henrietta) and various other switches and gadgets that each week could pop up or down in any show.
Part of the show's charm was also the cool, sometimes bottled-sounding music with a repeated collection of specific shticks that were played during certain character appearances or gadget use moments. Garrison rejected the original theme and at the last minute he hired Richard Markowitz who put together the Americana theme that began with the familiar bass guitar West shtick. Markowitz also wrote the simple oboe'd Gordon and rapid violin'd Loveless shticks. Sadly, when Markowitz left, so did many of the familiar rifts.



Just as the pilot was supposed to be shot, the director was fired so Richard Sarafian, who had worked on such classic shows as BRONCO, MAVERICK, 77 SUNSET STRIP, I SPY, and LAWMAN, came to the rescue literally at the last minute. Sarafian musingly recalls, "It was December in 1964 and they fired the director and I came in at the eleventh hour. I was agreeing to do the thing but a deal hadn't been made yet so my manager told me not to show up. But they had a plane waiting for me and I was threatened that either I directed the show or I would never work in Hollywood again. I showed up, went to Sonora, shot some episodes ("TNot Thousand Eyes") and shot some of the pilot there cause they had a railroad station there for the pilot's opening. I basically directed the show with no prep.
"I worked with Conrad on HAWAIIAN EYE because I was under contract with Warner Brothers but then Warners went out of TV business and Conrad found his way onto the pilot. It was being produced by Michael Garrison who for whatever reason was banished after the pilot and relegated to a room somewhere on the lot where he'd watch dailies but couldn't make any contributions to the show. Fred Freiberger and Richard Landau came in. I'd worked with them on BEN CASEY. I was not persona grata with Conrad. I was pretty hard on him. In those days he was not as professional as he ultimately was later on; he was a cocky guy. I even slept on the soundstage so I could run lines with him so he could be prepared the next morning. I guess one memorable moment on the pilot is I went overboard in one sequence where I had Susan Pleshette dump a whole tureen of some gooey dish on his head. It was too much and that part was removed but it was fun. Ross was the ultimate pro and between the two of them at the time, they were vying for position and ultimately they found a balance and with that, the show matured and Conrad became more dependable and comfortable as an actor. So after the pilot, I didn't get along with Conrad but I was called back for a second episode by Freiberger, the "Thousand Eyes.""
Any thoughts on the movie? "Only that my son was up for directing. When he went to the interview I told him to mention that his father did the pilot. (laughs) I guess they were totally unimpressed. He said, "Dad, I told them, I thought I might have scored a few points but in fact I may have lost them." (more laughter) I'm sure it will be a vast improvement over the pilot but the pilot was at least a springboard so I like to think I had something to do with the show's look."
Sarafian has now retired from directing but works as an actor and has appeared in films such as BUGSY, GOTTI and BULLWORTH. The show's signature mystique still exists today. When I mentioned to Sarafian that I'd read somewhere (an interesting book on the show by Susan E. Kesler) that Richard Donner was involved with the pilot he casually replied, "No, I don't know where you got that from. You interview him and leave me out of it. Maybe he was, maybe he was the one that got fired. I just don't know." I would later speak with Donner.



Although the show went through eight producers during the first season, besides series creator Garrison, only four had any real impact on the show, Collier Young (productions #2-4), Fred Freiberger (#5-14), John Mantley (#15-21) and Gene L. Coon (#22-27).
Young, who replaced Ben Brady who replaced Jack Arnold (Brady and Arnold never shot a show) introduced the character manservant Tennyson (Charles Davis) to bolster West's wealthy businessman appeal. In "TNot Fatal Trap," West masquerades as bad guy Frank Slade. A character named Slade was one of the most frequently used bad guy names throughout the series. However, watching Leslie Nielsen as a one armed traitorous General in "TNot Double-Edged Knife" is a far cry from his NAKED GUN days.
Fred Freiberger replaced Young and brought in two of the show's most important writers, Henry Sharp, who eventually became the story editor, and John Kneubuhl, the man who created Dr. Miguelito Loveless.
Freiberger recalls his involvement. "I was working at Metro (MGM) and when Stanley Scheptner, a CBS liaison, told me about THE WILD, WILD WEST, I asked, "Why contact me?" He replied, "I heard you like Vegas, we want a guy that wants to take a chance." The show wasn't working for them and they wanted a different approach and gave me a script to look at. When I gave it to Richard Landau, my story editor for years, he tossed it into the garbage. I told them I'd rather avoid period and geography and focus on the bizarre, which is what they wanted. I hired writer George Schenck and partner William Marks. We created a story about a killer train ("TNot Deadly Bed") and re-introduced the Bondian feel. At the time we came in, morale on set was low and people were scared and demoralized because they knew the show was in trouble. We worked day and night, got things done on time and our episode killed the most popular show at the time, a crazy thing called RUNAMUCK.
"Richard and I also created a writer's checklist we called the Ten Commandments. It was just reminding writers that each script needed certain attributes, things like creating a strong adversary for Jim, gorgeous girls and at the end of the second act, a writer shouldn't know how to get West and Gordon out of the trouble they had ended up in. That would give the designer headaches like when we had Bobby in that little cage ("TNt Wizard Shook the Earth"). He said, "How do we do that?" I said, "We do the impossible." He went away shaking his head. So then later we had this stagecoach where the top flies off and someone flies out. Someone asked the designer, "How are we going to do that?" He replied, "We do the impossible.""
I interjected that the guy ejected out of the stagecoach was a stuntman named Hal Needham (the director that did CANNONBALL RUN and inspired Jackie Chan to use outtakes at the end of his films) and that stunt coordinator Whitey Hughes told me that when they wire-pulled him up and out of the chair, the wire broke and Needham came tumbling down on top of Conrad.
Like any show, it is always a cat and mouse game where both are eventual winners and losers, the next battle line CBS drew was a line he defended. Freiberger explains, "They wanted to change the opening of the show but I decided to go with it because it just fit the show. Plus, that wonderful logo they had at the beginning and the commercial break artwork ideas, the network wanted me to change all of that. I said no, fought for it and I won that fight."



Freiberger is of course referring to the show's daring to do something completely different opening credits and act-ending commercial breaks. DePatie-Freling (PINK PANTHER) was hired to create stylized artwork boxes for the shows beginning that reflected certain aspects of the West character. For the pilot, four squares surround a middle square where West lights a cigarette. He karate-chops the neck of a retreating bank robber, catches a guy cheating at cards, uses his patented wrist derringer against someone who has the drop on him, then kisses a lady into submission as she is about to stab him. West lets her go, tips his hat and walks away. The words THE WILD, WILD WEST moves towards camera replacing the stylized West. Instead of fading to commercial, a freeze frame of the live scene would morph into a sketch in the frozen frame and dissolved into the 5 boxes from the opening. From episode two to the end of the season, only the four outer boxes were used and the sketches' were replaced with a grainy B&W photographs of the freeze frame.
At the beginning of the second season, THE WILD, WILD WEST was shot in color. The opening cartoon was now set against an American flag and the lady was hit with a right cross onto her derriere, something Conrad explains, "Justice." For the commercial breaks, for the season opener and the next eight episodes the four boxes were filled with a single colored, grainy photograph of the freeze frame. Then for the rest of the show the freeze frame was a painted animation cell.



In Freiberger's eyes, how did he think his approach to the show differed from Garrison and Young, and what were his thoughts of Conrad? He reflectively replies, "First of all, I had heard that Bobby was hard to handle, but to me, I had never come across a star that was so cooperative, wonderful and as hard working as Bobby Conrad. I established a great working relationship with not only Bobby but also with Ross... (a respectful moment of silence later) ...he was a wonderful actor.
"I didn't do straight Westerns or gun fights I'd bring in different things like a kidnapped Albanian Princess ("TNot Dancing Death") or a deranged Harvard professor ("TNot Human Trigger") and of course John Kneubuhl's Dr. Loveless. I had written Westerns before but wanted to stay away from the conventional stuff, which is what they were objecting to. And in the days when it wasn't politically correct to be liberal, we were liberal in science fiction and Westerns and people didn't object to that. We could do anti-racism in a Western and it was easy not having anyone call you a communist. I think that made the network afraid."
And perhaps it was that fear that came to fruition. CBS announced that Freiberger left THE WILD, WILD WEST to move on to a better project. "You know what my answer to that was don't you? I was fired because I succeeded in what they wanted me to do. Bobby quotes that reply in a lot places. Conrad was a doll."
Judging from the sort of shows he produced, he was really pushing the envelope on the audience's conservative attitude and challenged the American psyche and opinions on topics that people were either afraid to address or couldn't comprehend. Apart from the karate and kung-fu stylized fights, Freiberger created a world where women were equal in the military ("TNot Red-Eyed Madman"), midgets were the almighty ("The Night that Terror Stalked the Town"), a blind man who not only had an oriental wife but also struck fear up and down the Mississippi ("TNoa Thousand Eyes"), and a woman who could change the balance of power in Europe ("TNot Glowing Corpse"). Unheard of at the time. When I asked what did he do next he nonchalantly replied, "STAR TREK." I did a Simpson "doh" with that embarrassing "Oh yes, right."



When John Mantley took over, with his seven episodes he still kept the bizarre alive with his disfigured villains in "TNot Steel Assassin," a sort of SIX MILLION DOLLAR MAN clone gone bad, and "TNot Puppeteer" about a puppet-master who controlled a puppet which controlled other puppets. The oriental mystique was never so better exemplified than with his "The Night the Dragon Screamed" and he kept the legend of Loveless on West's and Gordon's toes as the normally-mute Voltaire now speaks in "TNot Whirring Death." The Bondian air increased as West battled a foreign spy ring in "TNot Grand Emir." Although in the pilot James Gregory played President Ulysses S. Grant, Mantley brought in Roy Engel to play Grant in "TNot Steel Assassin." Engel continued playing Grant as a semi-regular with his last appearance in episode 97.
Gene Coon was next handed the reins, resulting with a series of typical Western-fantasy crossover episodes involving Mexico ("TNot Freebooters") and the South Sea Islands where West took on Nick Adams in "TNot Two-Legged Buffalo"; a duet of over the top sci-fi accounts that Coon took to STAR TREK, "TNot Druid's Blood" and the H.G. Wells' clone "TNot Burning Diamond"; and a dyad of Dick Donner-directed dramas that focused on the West's first electric chair ("TNot Bars From Hell") and the Voltaire-less return of Loveless in "TNot Murderous Spring." Garrison returned to produce the last episode of the first season, ending what must have been like a boat heading up stream with one paddle - it can be done if you know where to place the oar and if you are strong.
So over the next three seasons the show was going not so much through a series of face-lifts but more like a progression of intermittent minor cosmetic surgeries.



In the first season, West got most of the ladies and his relationship with Gordon appeared harsh at times and during the fights, it was common for Gordon to be wounded or knocked out of the action. The second season saw their partnership become a friendship as West became softer and less serious and in terms of the ladies, Gordon was not always the second banana as is evident with "TNot Big Blast." There now appeared a more genuine chemistry between the characters, which actually made West and Gordon more human and approachable. The second season also focused on attracting marquee names to play the villains. Names like Boris Karloff, Ricardo Montalban, Carroll O'Connor, Sammy Davis, Jr., Ida Lupino, Agnes Moorehead, and returning favorites such as Michael Dunn's Dr. Loveless and Victor Buono as a new and improved villain Count Manzeppi, all perhaps solidified the Hollywood glitz appeal of the show while still maintaining its bizarre label. One show idea axed featured an appearance by Liberace playing his piano with a kerosene lamp on the piano; however, CBS worried that by doing the show, it would somehow publicly signal their approval of Garrison's homosexual lifestyle.
Garrison continued to be the producer into the second season until his untimely death, which ironically occurred during the shooting of "TNot Ready-Made Corpse." In fact, news of his death hit the set just as they were filming a shot of West in a funeral parlor looking at a corpse.



Although Bruce Lansbury was the final producer and did a wide variety of story lines over the last sixty-eight episodes, at the time of the pilot, he was head of CBS programming in New York and was responsible for rewriting a screen test for the casting of West's character. When I spoke with fellow Englishman Lansbury, he honestly shares, "Oh, Craig, my memory on all of that is dim you know. We're talking about thirty-five years ago. I remember we were preparing the fifth or sixth show when Garrison died. It was sad. When we were doing the pilot, Jim Aubrey was fired and I didn't want to stay on without him so I thought it better to be fired instead of discreetly retire. I was doing a show with my brother then got the call to come back to CBS to do the show.
"It was a show that confused William Pailey (head of CBS). As you know, we basically sold the show to the network as James Bond in the West, they could grasp onto that idea. At the time, shows like THE AVENGERS influenced our stories. Although grounded in the myth and lore of the West, it was a bizarre series. I like to do fantasy although we had straight action and Westerns. I tried some Jules Verne type sci-fi and the show had a sort of tiffany look to it. So that was my approach. The show was screwed up so badly after the first season with all the different producers and I was brought in to make it a happy group of people. It was tough coming in after eight or nine producers because Leonard Katzman was a strong right hand man and the crew wanted him to be producer and their noses were out of joint when I came back from New York. Ah, but I had to just overcome that and it worked out okay. Bob and I crossed swords in the beginning but we worked things out and became good friends.
"The show also featured imaginative stunts and of course Conrad's specialty, the fight sequences. Bob Conrad lived and breathed action and didn't care for dialogue. Ross was the actor and Bob was the action man and you never made a mistake of confusing the two and you learned that quickly, give Ross the juicy parts and Bob the fights. It was the rule of thumb but that's what made the show work. In the beginning, there wasn't a great deal of friendship between them but they started to soften and they became good friends. They were very self-protective for the first year but after they knew their territories and stayed within that purview and certain lines were drawn you could see their friendship."
During the second season Lansbury introduced another semi-regular character in "TNot Skulls," Colonel Richmond (Douglas Henderson), West and Gordon's new supervisor.



The third season featured more Westerns and culminated with Conrad's near-fatal stunt that went awry, simply known as "the accident." Gordon and West were now sharing equal time with the babes and Martin became more involved with the fight scenes while Conrad's acting abilities showed marked improvement. There was only one Loveless episode and Richard Kiel returned, not as Voltaire but as a sadistic, gorilla-owning quadruplet in "TNot Simian Terror." And although there were fewer egregious evil doers and villainous inventions, the season featured the biggest prop ever, a giant falcon-shaped cannon. Robert Duvall starred as the bird-brained baddie The Falcon in "TNot Falcon."
Yet in the fourth and final season, there was a return to the magnificence of the villains' edge for the extravagant. Also returning was their lavish creations of wondrous weapons like the juggernaut, a giant squid tentacle, a gigantic tuning fork, an active volcano, giant rockets and a steam driven robot killer. The show also had to endure several setbacks such as Ross Martin's broken leg and subsequent heart attack which left holes in the show that were partially and skillfully filled with a series of "guest agent" appearances, but it just wasn't the same. During Artie's absence and perhaps as a final nod to James Bond, they introduced the character Professor Montague, a crazy inventor that worked for the Secret Service developing secret weapons in "TNot Janus." He's comparable to Bond's Q. Played by Arthur Malet, he appeared in two earlier episodes as the doctor that pieced together the assassin in "TNot Steel Assassin" and as a counterfeiter in "TNot Circus of Death."
In the final two episodes, "TNot Plague" and "TNot Cossacks," they try to pull the wool over our eyes. In "Plague," there is a scene where West kicks a guard off a cliff followed by shooting his serrated arrow into the rock then drops to safety via the attached line. They borrowed that footage from "TNo Jack O'Diamonds" from the beginning of the second season and simply edited it in, shot for shot. In "Cossacks," West falls down into a cavernous pit, lands on a ledge, looks down at the bottom of the pit and climb up to safety after the ledge gives way. Same footage from "TNot Arrow" from season three.
But as Bruce Lansbury indicates, these momentary lapses of reason had nothing to do with the show's demise. They had always been accused of being too violent. The networks claimed that violence was a result of civil disorder and the Vietnam War.
In essence, Conrad easily qualifies as the Jackie Chan of TV and even Chan acknowledges that Conrad is a fight and stunt icon. In fact, Bobby and Chan had just seen each other at an awards function where they comically exchanged "You de man" phrases. Lansbury agreed with my description of Conrad stating, "That's a good comparison. When you watch Chan and Bobby, you can see that they are just going for it and you can tell that its them doing there own fights and stuff."



How important was the pugilistic action to the show? On a set visit to the film, I broached director Barry Sonnenfeld and Producer Jon Peters saying, "With the success of Sammo Hung's MARTIAL LAW, Chan's RUSH HOUR, and THE MATRIX, don't you think it's important to emulate that action or top it? I mean after all, regardless of what anyone says, it's the action of the show and Conrad's fighting prowess that became the show's trademark."
Both believed that the fights weren't as important as the newfangled effects and Will Smith and Kevin Kline's performances will sell the film. NOT! Recent test screenings saw the film miserably fail to fans' negative reaction. It's THE WILD, WILD WEST. Solution? Sonnenfeld hired my pal and one of the new generation, rising Hong Kong action directors Andy Cheng, to shoot an ending fight for them. Apart from being one of Chan's right-hand men for his past four films, Cheng is also one of the fight choreographers for MARTIAL LAW. I rest my case.
"It's true that the show had a lot of fights and action," Lansbury admits, "But to me it was more like a cartoon and I didn't see things as having gratuitous violence. I mean, even way back at the beginning of season two, we had this show called "TNot Man-Eating House," CBS was incensed about the show, and to this day I still don't know why, but they threatened to pull it unless we changed it. So we made the story based around Artie's dream. I don't know who came up with the objection, it was ridiculous. Yet some of our later show played pretty fast and loose and we got away with things. My point is that things aren't always what appear to be. I firmly believe we were the sacrificial lamb for Senator Dodd's committee on "Sex and Violence on TV." Plus, there were repercussions after Bobby's accident."



Conrad closes with these comments: "These new restrictions handed down by the network were a result of this Violence on TV committee. I couldn't wear a gun and for the fights you'd only hear music and not the punch strikes. After my accident they wouldn't let me do anything above five feet off the ground." A terse face later he admittingly nods, "But you know, when the show was cancelled, I actually had a sigh of relief because someone was going to get carted out of there. I had already been carted out and so was Whitey, my stunt coordinator, if it had happened beyond that and more serious, it would never have been the same."
The show actually ran on CBS from September 17th, 1965 through September 7th, 1970. A five year period that I will never forget. And as you've read through this narrative, episodic guide and all the side bars, throughout all the interviews, the one common bond that all these people shared during their four year stint of doing the greatest show on television is best summarized by Whitey Hughes: "I've been fifty years in the business and THE WILD, WILD WEST was the best fours year of my life. It was a great show."