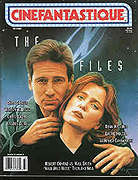 MORE WILD WILD WEST REVISITED

by Craig Reid
As the years go past, people become nostalgic, wanting to go back to the good ole days. TV is the same so on February 9th, 1979 the first WILD, WILD WEST film started shooting.
Directed by Burt Kennedy (many thought Irving J. Moore, who did 25 episodes, should've done it) THE WILD WILD WEST REVISITED saw a retired James T. West living in New Mexico with many wives and children while Artie was in a travelling group of performers. But for the good of the country they come out of retirement to cross swords with Dr. Miguelito Loveless Jr., (Paul Williams; PHANTOM OF PARADISE). The film also takes place historically 10 years later and our heroes seem somewhat blase about the whole affair. Curious twist? It's Artie who gets the ladies.
In a plot right out of "TNot Brain," Loveless is planning to replace all the world's leaders with his created clones and has planted atomic-like bombs everywhere. Since his father died from an overdose of ulcers brought on by the aggravation caused by West and Gordon, the film should be more like the "Revenge of Loveless Part 10." Gordon goes undercover in drag as a dance hall girl and meets up with Carmelita Loveless who helps them stop her brother. Loveless' hideout blows up and they all assume that he must be dead until Carmelita tells them that he cloned himself. West and Gordon toss in the justification towel stating that they just signed up for one Dr. Loveless.
A year later, Burt Kennedy must have called in some marker because by this time he is directing MORE WILD, WILD WEST. Paul Williams was unable to play one of his cloned Doctors so Jonathan Winters comedically stepped in to play new villain Albert Paradine II. Harry Morgan returned to play Robert T. "Skinny" Malone, director of the Secret Service. The film also marked the return of Count Manzeppi's Victor Buono as Dr. Henry Messinger, the Secretary of State. A fateful twist here, Buono starred in the pilot as Wing Fat (Manolo) and now star in what turned out to be the last of the true WILD, WILD WEST-ERNS.
Paradine plans to attend a peace conference in Washington and incite a war between the powers. West and Gordon track him down to his hideout but are captured and placed over a pit of tigers. They escape, get to Washington and have 24 hours to find a bomb that Paradine has planted in Dr. Messenger's briefcase. Paradine has invented a transporting device and when he appears to tell them that the whole room will blow up, his device fails. Gordon finds and disarms the bomb, then handcuffs Paradine to Messenger and they both disappear. Gordon finds the disappearing device and tosses it into the lake. As the invisible Paradine and Messenger search the lake, West and Gordon fly away in Paradine's balloon (as Manzeppi did in his second and last appearance on the show) with the babes.
A closing comment by Conrad about these films: "We all got along fine with each other when we did these, but I wasn't happy with them only because CBS imposed a lot of restrictions on us. They never came up to the level of what we had done before."