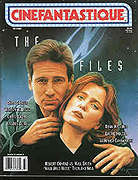 WILLIAM SCHALLERT: GUEST AGENT--GUEST STAR

by Craig Reid
When "Mr. Gordon goes to Washington," as kids we didn't know that "Artemus" (Ross Martin) had actually suffered a serious heart attack. We just thought Artie had to do what the President ordered him to do. So over a series of nine episodes we were introduced to other members of the Secret Service. William Schallert was to play one of those agents, Frank Harper, in what turned out to be the only 2-part episode in the history of the show, "The Night of the Winged Terror." Schallert reflects on his experiences on THE WILD, WILD WEST.
"Well I'd worked on two shows before being Frank Harper," he casually shares, "In my first show, I was part of a plan to steal the Constitution of the United States ("TNot Bubbling Death") and the other, I played an old man name Rufus Kraus ("TNot Gruesome Games"). I also played a similar old man on GET SMART. I love playing old guys. The first job I ever had as an actor at UCLA was an 85-year-old lecher and wicked old man willing to sell his son to get an inheritance. The only thing I regret about doing that show is that they wouldn't let me fall into the cake.
"I think they thought of me for the part because I'd played the two different characters on previous shows and could handle the disguises and voices. It was also the same for Chuck Aidman."
Schallert is referring to Charles Aidman; the first called in as a replacement after Martin's heart attack. He was agent Jeremy Pike, who in the story, had worked with West before. Aidman did four episodes starting with "The Night of Miguelito's Revenge" when Colonel Richmond informs West, "Gordon has been sent on special assignment in Washington." In "TNot Camera," the dour comedian Pat Paulsen makes an appearance as supposedly timid agent Bosley Cranston who has a photographic memory. The cool twist at the end of the show is we learn he has a black belt in karate as he deftly beats up the lead villain. The next Aidman installment "TNot Pelican" sees West receiving a recorded message from Gordon telling West how much he misses him as we hear a giggling lady in the background. Aidman's final appearance was in "TNot Janus" where Pike has to figure out what in the world "He's hanging around the spooning tree" means.
Schallert continues, "I knew they weren't looking for a replacement and when they called me, Chuck was off filling in for Martin Landau on MISSION: IMPOSSIBLE. So I was known as a character actor and for THE PATTY DUKE SHOW. They didn't ask me to be Artie-esque but I remember they tried to make me more dashing than I normally am. That was the stretch for me, playing this kind of Errol Flynn character. It was fun. I recall having to play the piano which is something I can do and an old German doctor, but mostly I was just playing a straight character."
The last guest agent was Alan Hale as Ned Brown in "TNot SABATINI DEATH", who helped West protect a blind girl from her dead mobster father's friends. At the end of the show when West asks where does he plan to take his long vacation, Brown states, "Just want to be alone on a deserted island" while we hear that familiar GILLIGAN'S ISLAND rift.