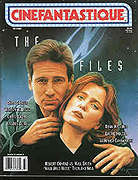 KEN KOLB ON GENE COON & WRITING FOR WILD, WILD WEST

by Craig Reid
When I called Ken Kolb, one of the top writers in the TV industry for 25 years and author of eight cool episodes of THE WILD, WILD WEST and THE 7TH VOYAGE OF SINBAD, he was in the middle of writing a memorial service for a dear friend that was responsible for bringing he and his wife of 47 years together and taught him how to drink without getting paralyzed or obnoxious. Something he found useful in the TV and film industry.



Kolb reflects on how he got involved in the show. "I had been at it for ten years. I studied English at Berkeley and realized I could do nothing with it until a friend, of a friend of a friend knew Jim Moser who hired me to write a script for a show called MEDIC. That starred James Boone who went on to HAVE GUN WILL TRAVEL. A good friend of mine, Gene Coon...great guy and a very close friend, we had been writing together on MEDIC. He was a former Marine Combat Correspondent and we came into the racket at the same time and he was the story editor and later producer on THE WILD, WILD WEST. The time Garrison came back in charge, he wanted me to meet him and I liked him and he had a great sense of humor. Did nine episodes. After he died I felt the show went to pieces. Lansbury held the show together for about a year after that Westerns were doing well and fantasies poorly so CBS kept saying it was a Western."
"My first episode was "The Night of the Burning Diamond" that Gene produced. H.G. Wells called it the "time elixir." The classics don't fit well in any given time slot with preconceived characters so quite a bit had to be done with it. I told Coon, "Hey, Wells has this story that would be terrific for the show and the effects would be not be costly, like dangling a gun in midair with string and it's actually falling at the regular rate and they are just moving faster. It was fun to write because of the relationship between Artie and West. Conrad was a dependable stuntman and Ross the dependable story man. I thought Conrad was a nice guy because he wasn't overwhelmed with himself and never wanted to rewrite the scripts so as to show off the marvelous facets of his character, which is all you can ask of a lead.
"Burning Diamond" was well received and Kolb felt very confident that he, Gene and Mike would have a nice run of things. He describes Garrison as a 6' 3", big, burly, shaven head, deeply-tanned muscular looking guy and it took him three scripts before he was onto anything unusual about sexuality. He reminiscently laughs, "A neighbor of his came into the office noting to Mike that he knew he comes home late at night and has large amounts of money and he just wanted to warn him of the local muggings. He asked if he was safe and if he carried a weapon in his car? Mike looked at him and said, "No, but I can always use my hat pin." (laughs) The neighbor just left."
The second episode Kolb wrote was the last B&W show "TNot Sudden Plague," story about an evil doctor who created a virus that is so fast-acting in infecting people that it immobilizes them. "Oh that one," Kolb blurts, "I remember writing that one under great duress. The budget was thin, as a specialist, Mike would call me and say, "Time for another ship in the bottle." It looks very big until you pull back from it. I'd never heard of that before, he'd say "We've only got $50,000 left, time for ship in the bottle." (laughs) Although I'm credited for "TNot Bottomless Pit," it's not my idea and Sharp rewrote it anyway."
According to Kolb, another of his ships in a bottle was "TNot Colonel's Ghost," an episode that was shot on a standing set in three days, with lots of mysterious voices in walls, ghostly pipe organs, few speaking parts and no buildings.
"Do you recall that actress (Kathie Browne) in that whose acting talents were carried in her bra?" he jesteringly implies, "I was with Mike and Bobby getting near the final version. Bob and her are having a walk down the street and want to establish the statue, and the sound had gone bad. Mike said, "Give her a line, Ken." I suggested, "I think I'll take these things back to the hotel now." Conrad was in hysterics because that did appear that's all she was doing -- lugging those things around. No, we didn't use it, I came up with something not as lasting."
He also recalls another fascinating day at the dailies screening room regarding his script "TNot Ready Made Corpse" which starred Carroll O'Connor. "This was my own idea. Suppose we had a crooked undertaker who specializes in plastic surgery and gives people new identities. It just took off because Carroll was a great evil undertaker. I remember we were watching those dailies and there was half a dozen people in there including Conrad. All of a sudden he stands up and he's pissed off about the way the scene is going. Garrison stands up saying, "What's a matter Bobby?" He replied, "That son of a bitch can upstage me with his back to camera." That's true, when O'Connor is on scene, he has presence, you did tend to watch him and not Bob."
Kolb also wrote "TNot Gypsy Peril" based on a story he had written for Joe Barberra where an elephant gets stolen, dragged down an alley and disappears through a fake wall. As he puts it, "It's just the shear absurdity of stealing an elephant." Kolb's last script for THE WILD, WILD WEST was "TNot Bogus Bandits," a Loveless adventure. (editor's note: this episode is officially credited to Story Editor Henry Sharp)
At that point, Kolb believes that the story editor, Sharp, and he had different perceptions of what the show was about. Sharp was more cartoon-y and Kolb was trying to do things as realistic as possible. He felt that during Sharp's tenure as story editor, he could no longer provide any more workable ideas for the show. He left the show.



After "Burning Diamond," producer Gene Coon moved on to STAR TREK, a show for which many people believe he never received enough credit for its success. I asked Ken Kolb if he could share with us a few things about this enigmatic man and his thoughts on STAR TREK.
"You're right. I think Coon had a lot more to do with the success of STAR TREK. I only knew Gene Roddenberry slightly. We met when we were both writers on HAVE GUN WILL TRAVEL and he did one episode that I admired about a camel race in Virginia City. I only did three shows for MEDIC. Although I was contracted for ten, it folded but at least one of my three scripts got the Writer's Guild Award For Best Episodic Half Hour in 1956. That really dates the beginning of my career and I didn't have to write any more 7TH VOYAGES OF SINBAD.
"But Gene (Coon) was about the nicest guy that you could ever meet. He was a Nebraska farm boy with two brothers who may still be alive. His younger brother Jack was a great trumpet player and led the Disneyland Marching Band for years and now plays at the River Inn in Carmel. Gene was a guy on who everyone could impose on, including his agent who moved back to New York owing Gene a lot of money.
"When Gene was alive, I used to stay with him regularly when I'd come to Hollywood. He and his first wife would always come up here to our home and Gene would always leave saying how much he'd like to do what I did, that was buy a little place in the country and build a nice house. Each time he'd come here he'd leave with magnificent plans, none of which got done because he was involved in the business and really liked it. I was never really serious about writing for screen but Gene was and enjoyed moving up the ladder. He was way ahead of the game and wanted to make things as video tapes but video tapes weren't yet a reality. It was still in the hinterland."
(editor's note: casette tapes weren't, but video itself certainly was. The BBC was filming a great deal in video by the mid-1960s.)
"I loaned him some money so to try and do that but before he got off the ground he went to the hospital with the flu then died a couple of days later. (with a drawn silence) Lung cancer devoured his lungs and it's weird because previous X-rays showed nothing. He was a 2 1/2 pack a day Camel smoker. He'd quit every time he came up here to stay but after they left, I go to the back of my guest house and dig up the cigarette butts he had planted. He was a smoker and paid the price for it in his 40s.
"He was a better screen writer than I. So was John Kneubuhl. John and Gene were my best two friends and they are both long gone. When Gene passed away I'd go to John's place to stay. His mom was Highland Royalty in Samoa and for his 21st birthday gave him a valley with three tribes in it. He moved back and adopted a Tongan boy. Each time I speak about THE WILD, WILD WEST, I get to miss them and feel bereft. I learned a lot about writing from both of these two, dear friends."