One day in the late fifties, an actress asked Bob Conrad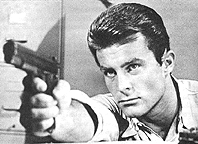 to help her with an audition for William T. Orr. He did, and soon wound up with a contract and later a starring role as Tom Lopaka in Hawaiian Eye. That was the first role to be cast for the show, and it was the first major role for Bob Conrad on his way to becoming a superstar of television.
Bob had been interested in performing for most of his life. He was born March 1st, 1935, the son of publicist Jacqueline Hubbard, and by the time he reached high school he was on stage. About that time he came up with the name "Robert Conrad" by switching his first and middle names and dropping his last name, "Falk".
Soon he was making the rounds of Chicago's major hotels with bandleaders Johnny Gilbert, Jim Redd, and a jazz trio. He also worked some of the 'less' impressive places on the outskirts of the city. And not all of the work he was doing was on stage.
Before he got fed up with his situation and headed for Hollywood, Bob was married (to Joan Kenlay since 1952) and was supporting two daughters by working as a delivery boy for a dairy, by serving as a dock hand for consolidated shipping, and by putting in some hours in a Skokie candy factory. In his -spare- time he sang and kept an eye on TV.
In fact, Bob says he decided to try television acting after watching other guys do what he thought he could do better.
Another thing that helped him along was a chance meeting

with The Rebel, Nick Adams. Adams thought Conrad might be a good actor, so he helped him obtain a Screen Actors' Guild card, an agent, and finally, after nine months of no work, a few small parts.
Some of those parts came when agent Henry Rackin became a casting director at Ziv Studios. Conrad got work in Sea Hunt, Bat Masterson, and Highway Patrol. Then came the break with Warner Brothers, which was kind of ironic since Bob had always wanted to sign with that studio. (His idols were John Garfield, Humphrey Bogart, and James Cagney.)
Bob says his small stature really paid off for a change; his 5'7" height was perfect for a screen test with a small actress named Jennie Maxwell. (Remember the infamous story of giant Clint Walker's screen test with an actress who had to stand tip-toe on a box?)
So Conrad got a contract and made appearances on several Warner shows- Lawman, and 77 Sunset Strip- before getting the featured role in Hawaiian Eye. Even star billing didn't solve Bob's financial difficulties, though. He drew $250 per week the first season, and when the show caught on he was raised to $315 (and they let him park on the lot, he says.)
He was never too happy with his deal.

When Eye finally left the air, Conrad's star-studded TV career continued; he was soon playing agent James West in the cult-favourite The Wild, Wild West (1965) on CBS.

In and around the series he did some less than critically acclaimed films like Hotel Madrid, Palm Springs Weekend, and The DA: Conspiracy to Kill. An attempt at doing a series from the movies didn't make it. He also had a series called Assignment: Vienna.
Then came a couple of TV jobs that will be remembered: Black Sheep Squadron, and the mini-series Centennial.
The saga of Black Sheep Squadron is a story in itself. You'll recall it began in September 1976 as Baa Baa Black Sheep opposite Happy Days and Lavern and Shirley. With those two shows rated one and two in the national Nielsens, you can imagine how well Black Sheep did.
But the show had two things going for it. First of all, it sported some spectacular aerial combat footage from the Defense Department's World War II archives, and secondly Bob Conrad liked playing the role of fighter pilot Gregory (Pappy) Boyington. Calling on his fighter instincts, he went to bat for the show and managed to do alone what it took hundreds of thousands of Star Trek fans to do: he talked NBC into keeping the show alive.
The fight began after Black Sheep was canceled after the initial season, even though it

managed to hold a respectable audience against ABC's top comedy shows. Conrad and the show's executive producer attended an NBC affiliates' meeting in Los Angeles where they solicited the sympathy of quite a few station managers who then threw their support behind the series. All that impressed NBC's Irwin Segelstein, who ordered more shows and had the name changed to Black Sheep Squadron so people would know it wasn't a children's show.
The show was canceled again, brought back, moved to a time slot opposite Charlie's Angels, crept up in the ratings, and moved to still another time slot before NBS canceled it and made the decision stick.
Centennial came next for Bob Conrad - a show he considers some of his finest work.
But he almost didn't get the part. Universal first wanted Robert Blake for the role of French trapper 'Pasquinel'. When Blake couldn't do it, Charles Bronson was offered the job. That didn't work out either, and at the last minute Conrad got the role.
There were times when the producers almost regretted having chosen Bob. His famed assertiveness caused problems at times; contract stipulations gave him twelve hours between work calls; his fake beard bugged him on the set. Still, it all worked and Centennial was acclaimed by the critics.
[from: Warner Bros. Television, Woolley et al., McFarland and Co (1985)]