In both culture and location, Grodek, Poland in 1920 was about as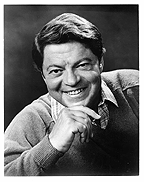 far away from Hollywood as imaginable, yet it was here that one of our finest actors was born to parents Isak and Sara Rosenblatt in March of that year. Seeking the opportunity America offered, the family soon migrated to the lower East Side of New York. It was these tough, east side tenements, crowded with European immigrants and a myriad of cultures and languages, which formed the young Ross Martin into a talented thespian, singer, dancer, physical comedian, concert violinist, make-up artist, and easily one of the best dialecticians of this century.

Communication amongst the immigrant population of the lower East Side rarely included English. As a young child, Russian, Polish and Yiddish were spoken in the Rosenblatt home. Outside, Ross's childhood playmates spoke Italian. Thus Ross was essentially fluent in four very different languages before taking up English at the well-seasoned age of five. This multilingual upbringing coupled with Ross's amazing ability to almost instantly absorb dialect would later gain him true fluency in seven separate languages, working knowledge of at least two others, and the ability to very accurately reproduce hundreds of different dialects and accents almost effortlessly. Impersonation and caricature came naturally to the budding thespian, but Ross was also gifted with a razor-sharp intellect and could play almost any musical instrument he took up. Any one of these things could have led to a number of different paths in life for the young star. It was seeing his first play in a Yiddish theatre at the age of three that cemented his destiny.
The Rosenblatts instilled in their son a ferocious work ethic and a desire to succeed at anything he attempted. An exceptional and brilliant student, Ross was soon also an extremely accomplished violinist, playing solo with a major junior symphony orchestra by the age of eight. With a brilliant takeoff on the popular comedian, Joe Penner, he tied for first place in an amateur talent contest with another young star-to-be, Red Buttons. Both winners were but ten years old. With devotion and maturity rarely seen in even much older people, Ross continued to play the Manhattan and Brooklyn amateur night circuits while maintaining his studies and honing his instrumental virtuosity. By the time he graduated public school with a trio of college scholarships in hand, he'd already both produced and starred in a variety of theatre shows and soloed with a number of symphonies.
This brilliance of performance carried straight through college. Ross earned a bachelor's degree with honors in business administration and a master's degree in education from City College of New York, then

took a position teaching advertising and marketing. A year later he returned to college and obtained a law degree from the National University School of Law (now George Washington University) in Washington D.C. before reaching his twenty-first birthday. As always, Ross found plenty to do outside his studies. He produced and starred in a number of college theatrical productions as well as worked nights as half the vaudeville comedy team "Ross & West" which, with Bernie West, toured nationally on the Lowe's and Star circuits from 1937 to 1941.

Such scholastic credentials as Ross's certainly couldn't go unnoticed and it wasn't long before business opportunities knocked. Ross was offered a position as the assistant research director for Hecht's department stores in Washington D.C. and was soon promoted to buyer for the chain at the age of twenty-three. But in spite of his success in business, the desire to 'tread the boards' would not die. Washington D.C. happened to be the home of Janice Gray, the first and only continuing daytime radio serial to originate there. Eagerly employing his penchant for dialects, Ross auditioned for and won three regular roles on the show, including the part of a sixty-two year-old Viennese gentleman. Radio had found Ross Martin.

And likewise. In no time Ross was a regular in eight separate major series for the CBS, NBC, ABC, and Mutual networks, often taking on up to three individual roles in a single episode. It was at this time that he decided to take a major gamble, leaving the desk jobs behind forever and devoting his life to acting. The move paid off, big. CBS signed him to a special talent contract and within a year he had his own radio program, The Ross Martin Show. Next he moved back to the center of radio programming, New York City, and immediately landed a recurring role on the highly-rated Perry Mason series. The young man from New York's lower East Side soon had more broadcast offers than he could handle.

Television was the next medium to conquer. Ross had continued to do live theatre even as his radio career escalated and by 1948 had an impressive string of successes in stock to his credit. New York City was the birthplace of the new visual broadcast medium, and Ross was already there. He began doing live television as well as radio as soon as possible, and as rapidly as he picked up dialects he became a regular fixture in the golden era of live television with appearance after appearance on such classics as Suspense, Lights Out, Hallmark Hall of Fame, Philco Television Playhouse, Your Show of Shows, Armstrong Circle Theatre, and many others.
On the other side of the country, Hollywood took notice. Ross signed for his first feature in 1954 and took another career gamble by permanently changing coasts in 1958. He had hardly unpacked when he won the lead in the local Los Angeles television series, Dorso, D.A. Many guest roles followed in national programs such as Peter Gunn, Bat Masterson, M-Squad, The Law and Mr. Jones, and Gunsmoke. Less than eighteen months after coming to Hollywood for good, Ross Martin had a lead in a major new network series playing 'Andamo' in Blake Edwards' extremely popular Mr. Lucky.

By 1961, Ross Martin had already made over 300 appearances in top-rated television series, chiefly in lead character roles. Sandwiched in those years were his first Broadway productions with major parts in the musicals

Hazel Flagg and Shinbone Alley plus a lengthy stint as 'Nathan Detroit' with the Broadway touring cast of Guys and Dolls. Hollywood knew talent when they saw it and hired him straight off each Broadway appearance for lead roles in such feature films as George Pal's Conquest of Space (1954), Ivan Tors' Underwater Warrior (1958), and later Geronimo (1962) with Chuck Conners, the critically-acclaimed The Ceremony (1963), and Blake Edwards' classic The Great Race (1965), in which Ross and Tony Curtis demonstrate their fencing prowess in a memorable duel to the finish.

Certainly not for lack of ratings, CBS's Mr. Lucky left the airwaves in 1960 and over the next few years Ross suddenly found himself the most sought-after Spanish-speaking performer in the industry. Unfortunately this had the effect of type-casting the eloquent actor in wise-cracking, Latino and Hispanic roles.

He did a number of these parts for Disney's various productions of the time but was determined to demonstrate his range to both the Hollywood casting agents and the public. A regular stint on the clever CBS pantomime improvisation show Stump the Stars and the leads in the Los Angeles Professional Theatre Group's The Chinese Wall, Becket at the Pasadena Playhouse, and The Firebrand for the L.A. Stage Society served notice that the actor was far more dimensional in scope than just 'Andamo'. Producer Blake Edwards signed the relative Hollywood newcomer as the sadistic, asthmatic killer 'Red Lynch' in the new psycho-drama Experiment in Terror for Columbia Pictures, with Glenn Ford and Lee Remick. But this casting choice was to remain secret for a while.

As a publicity stunt, Columbia chose to withhold the identity of their new star, introducing the actor simply as 'Mr. Blank' and attempting to keep his identity a complete secret with masks and hoods when in public until the film's release. The stunt worked almost too well. The public was captivated by the campaign and the press determined to identify the unknown, all of which made for an exhausting parade of publicity. With "Who is he?" interview after interview, it became impossible to keep Ross's name from the press before the film opened and he gladly retired from "A.A." (actors anonymous). Now everyone knew Ross Martin was Lynch -- for the moment. Unfortunately, a by-product of the zeal in which Columbia pursued their 'Mr. Blank' campaign was that Ross remains un credited in the main film titles and publicity literature and younger audiences often don't realize this film belongs in the credits of one of their favourite actors.
Although he went less than ideally credited, Hollywood knew who was responsible for the frighteningly realistic portrayal and Ross was nominated for a Golden Globe as best supporting actor that year. McCall's lauded him as "the most satisfactorily-sinister villain to hit the screen..." and Show Magazine proclaimed him "...the most convincing dastard to appear on screen... " - with both reviews ending "...since Richard Widmark pushed the old lady down the steps in 'Kiss of Death'."